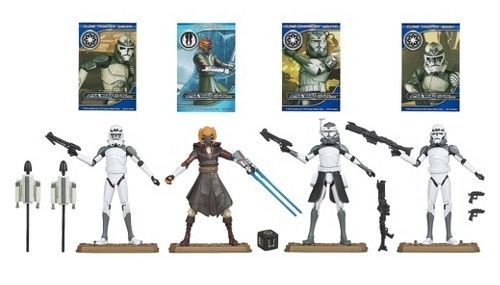 Our friends at JTA alert us to an awesome TARGET Deal...
-- Posted by Tamer on Friday, August 1 2014
Well Target vie eBay, but an awesome deal nonetheless. If you can remember the TCW Wolf Pack Set which retailed for $60 most of us liked it, but at that price most of us passed. Well now, for only 12 hours, you can get it via eBay for only $25 dollars with free shipping to boot. Now that will get some of our TCW Customizers in some fodder for awhile!

---
Enjoy Episode 72 of Custom Action Figure News!
-- Posted by Tamer on Friday, August 1 2014
We had a great time last night talking with the super customizer himself Dayton Allen aka Sith Fire 30 about all the great new stuff we saw at SDCC 2014. It was mainly a Hasbro discussion, but we did also talk about Mattel, Sideshow, Kotobukiya, and even a few other non SW products. As always you can click on through to the ISY CAFN Archive Page to get the MP3 Download Link if you would prefer not to see the video version.

---
Viperskingdom lists new Star Wars 6 inch Items...
-- Posted by Tamer on Friday, August 1 2014
From the new 6" Walgreens Fett to the 6" Chewbacca to the 6" Jedi Luke to 6" Black Pauldron Storm Trooper Viperskingdom is listing a lot of the newer stuff if you are having a hard time waiting on the general release some of it even with free shipping. Click here to go see it all and thanks to Dayton aka Sith Fire 30 for making me aware of this last night on Custom Action Figure News.

---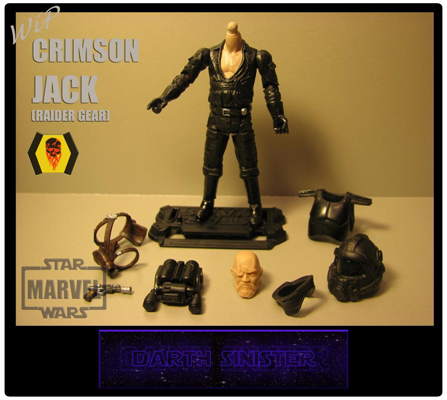 Darth Sinister is back with a great SW Marvel Custom Figure...
-- Posted by Tamer on Friday, August 1 2014
"Been steady working on an update. I finally got one of the Pirates done. This is a Crimson Jack re-boot. If some of you don't know who Captain Jack is he was the first EU character in the Star Wars Universe given to us by MARVEL comics in October of 1977. If you've never seen his original incarnation it was a bit ridiculous. Often when I read this as a kid I used to wonder if the colorist simply forgot to color Jack's legs blue/black like the rest of him. After a while you realize this dude's got no pants. Why would a guy go into space without pants? Like Padme said to little Anni "space is cold". Yikes." His version is just fantastic!

---
I-am-Boba-Fett is back with a new custom...
-- Posted by Tamer on Friday, August 1 2014
"Here is a Female Jedi Knight of the Nibrid species (made up the name). I based her species name on the fact that her head looks like a female character from a 90's movie called Nightbreed. I really like how she turned out." I do too!

---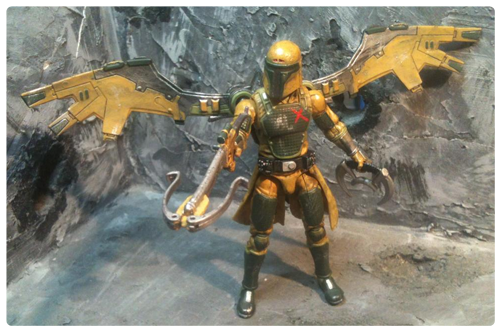 Darth Optimus is back with a new Mando!
-- Posted by Tamer on Friday, August 1 2014
"How's about a Mando? E'rybody loves Mandos! This is Ry Geth, Mando merc under the employ of "The Heartless" squad. The Heartless mark their armor with a blood-red "X" on the left-side of their chest piece. Ry utilizes an variant of the "standard" Mando beskar'gam, which is an alloy. He also uses a winged repulsor pack for added flight time (which also gives him the option to hover longer). The wing pack has earned him the nickname "Raptor". His weapons of choice are a human-sized bowcaster and a semi-circular "moonblade" forged of pure beskar." Wow is all I have to say!

---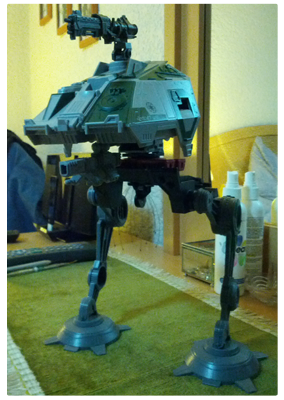 Killer Panda shows my type of work in progress...
-- Posted by Tamer on Friday, August 1 2014
"Long time since my last post but work and family takes time from this hobby. Well here is a WIP I call it AT-HK an early stage concept that requires a lot of work to do but I thought it would be nice to share it with the forum. Any suggestions or comments are really appreciated." Well I think it is fantastic and I can wait to see how it is finished. The full recipe is at the aforementioned link.

---
Darth Crassus shows us his new Action Fleet Foxcatch...
-- Posted by Tamer on Friday, August 1 2014
"This ship only appeared briefly in the Twin Engines of Destruction comic in which Boba Fett takes out imposter Jodo Kast. The ship has a neat design and I always wanted a toy version of it. I sacrificed an Imperial Shuttle and three X-Wings to make this one." I didn't even know this ship existed, but wow does it look good and it makes me want them to bring Action Fleet back!

---
Hasbro Toy Shop.com posts new wave of Black Series 3 and 3/4 inch wave...
-- Posted by Tamer on Friday, August 1 2014
I haven't heard of these hitting the pegs yet, but between various etailers and now even Hasbrotoyshop.com you can add some of the newest wave of figures to your collection. I would guess that new Snow Trooper Commander is probably gonna be the hot one on the list, but I look for most of these to be gone before the morning is over so get your order in now if you would like. Still no SDCC Jabba yet, but don't worry I am trying hard to watch for that one too.

---

Wal-Mart.com lists the Hero Series Falcon...
-- Posted by Tamer on Thursday, July 31 2014
I just got in a report for ISYer KRZTFR that he spotted that "Walmart.com has the big waste of money falcon for sale." Well for those who have to have it you can pre-order it for what looks to be an October 7th shipment. I am still on the fence about this one. The outside details looks great, but the fact that it is just a big ole hunk of plastic without any opening cockpit or playability with action figures just gives me pause.

---

Please vote in our Next Custom Challenge Poll...
-- Posted by Tamer on Thursday, July 31 2014
Here is the chance for you to help us decide our next customizing challenge. There are many choices that came out of the hat for this one including Mandalorians, Super Hero Cross-Overs, Custom recreations from another artist, etc. You have until this weekend to get in your vote before we start on Monday!

---
Look ma no eyes!
-- Posted by Tamer on Thursday, July 31 2014
I am sorry to start this off with a pun, but I just don't know what to say about this. A recent quick purchase of the new six inch Scout trooper yesterday allowed him to get home to find out his purchase was missing the eyes! Folks I am at a loss to describe how this missed what I am now wondering is quality control. While the owner sure does have a neat conversation piece now we can but wonder what other paint atrocities we are going to see in what should be the Cadillac of Hasbro's products. Seeing Hasbro's recent answer about our paint issue questions it makes me wonder how aware they really are?

---
Lucasclones reviews Danger at the Docks!
-- Posted by Tamer on Thursday, July 31 2014
Wow it has been awhile since my buddy Chad has gotten his hands on anything good and it was great to see him post a new YouTube Video Review. I am hoping this is just the start of him finding new things on the pegs! Enjoy his video review of the Toys R US SDCC Exclusive Danger at the Docks JOE Set.

---
Elias is back with an update...
-- Posted by Tamer on Thursday, July 31 2014
"Here's another one from my little guy. He spent two days working on this one. He only finished the torture rack so far. He hasn't gotten to the droid itself yet. After seeing Chewie's version, he wants me to find some wires to add to the figure." Well doesn't that just look great! Man, I wonder whose arm we would have to twist now to get something like this out by Hasbro?

---
Wookie Balls adds to his Vintage Kenner Restoration Project...
-- Posted by Tamer on Thursday, July 31 2014
His latest update includes these two restored Droids Action Figures in the form of R2 and 3PO and custom cards that make them look cash fresh. Ah I can remember how that cartoon was on my must watch list Saturday mornings. Wouldn't it be grand to see these on the pegs again!

---