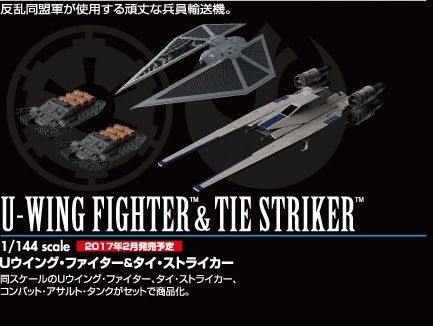 More Bandai News from JDeck!
-- Posted by Tamer on Monday, October 24 2016
"Here's a few promo images http://bandai-hobby.net/sw/jp/special/rogue1.html. The Rogue one 1/72 TIE striker releasing January 2017 for 28 USD. Also the 1/144 TIE striker and U-wing. They seem to also come with two hovertanks. Too bad theyre so tiny, but its cool they're included. They'll be released February 2017.

More info on the Death Star however I cant read Japanese, so doesnt do a lot of good. I don't know if it's the concept series, or a full size model. I really hope it's full sized, bigger than a fist, and not the palm sized concept series.

And the Scarif trooper is 2,916 JPY which comes out to 28 USD. A little steep, but you get 3 building options. Release date December along with K-2SO 2,592. JPY, Millennium Falcon and 1/6 Stormtrooper."

I always enjoy seeing new Bandai Updates. That licensee is really doing the Star Wars Brand proud!

---
Panther is almost done with his TFA Dio!
-- Posted by Tamer on Monday, October 24 2016
"Final touches have been made, I used a wash containing a mixture of Yellow Ochre and burnt Umber over the branches, then another wash of burnt umber over the tree. Using a green wash, I went over the ground filling in the white gaps on the base, this also gave the foliage a lovely lighter second tone. I also went around the front of the base with a black acrylic.

Just need to wait until the morning and see how it has dried!"

I would say it dried pretty well!

---
Dag Marus adds to his BB-8...
-- Posted by Tamer on Monday, October 24 2016
"I've got an LED finger light on there that works pretty well in the place of a flame. I've got four days to put some finishing touches on the little guy. Cannot wait!"

He is definitely tricking this droid out!

---
Clone Troopr is back with a Clone Assassin...
-- Posted by Tamer on Monday, October 24 2016
"Here's a custom I'd had on the shelf for awhile, but didn't get around to showing. He's based off of his appearance in the Revenge of the Sith videogame. The blades I made are sheet metal; probably wasn't the greatest idea because I need to be really careful with it incase I take out my own eye with the toy."

He sure does look tough though!

---
Ron Hembling updates us on his Galen Marek...
-- Posted by Tamer on Monday, October 24 2016
"Hi All,

Marek is 90% complete I just need to add a little bit more weathering to the outfit. I had a look at a lot of pics of Marek and his face seemed to be pale so I went with that and I'm very happy with the way it looks but I sent these pic to the client to see if he likes the look of the skin.

Ron"

I think he is rocking this one!

---
Starchaser is back with new work...
-- Posted by Tamer on Monday, October 24 2016
"Inspired by both I-Am-Boba-Fett and Mandalore 25, I thought I would try my hand at Tyvokka - Plo Koon's master."

Click on through for the full recipe!

---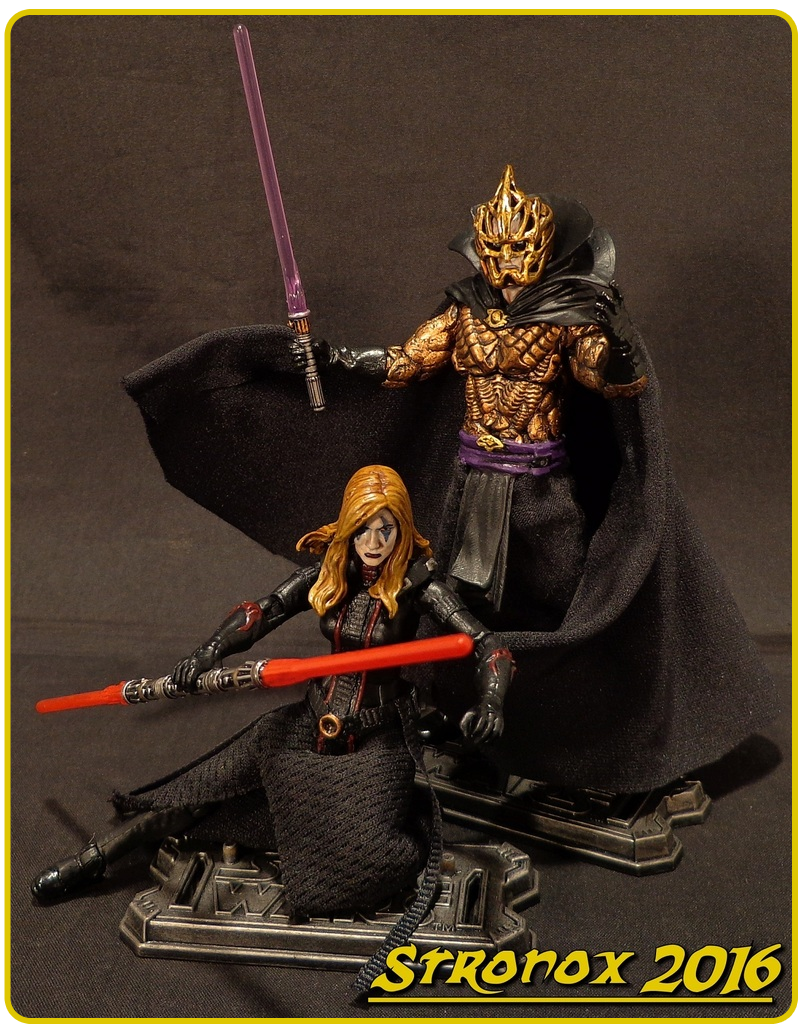 Stronox is back with a new Sith Update!
-- Posted by Tamer on Saturday, October 22 2016
"Hi guys! It has been a while since I posted figures up for auction so I thought I would share my latest...

The first is Darth Bane, in full orbalisk armor. I have made this before and he is one of my most requested pieces. The design is actually based off of a cosplayer I had seen years ago. With this version I made him out of a GI Joe figure and have retained all the articulation despite being mostly sculpted.

Next up is a character I have actually never done before...Darth Zannah! I made her from various GI Joe parts as well and have also modified her height to be in scale with other SW characters as sometimes GI Joe is way too tall. Thanks for taking a look and comments and critiques always welcomed!"

Well I think they look fantastic. Folks you have to click the aforementioned link and see these images full size to appreciate the detail and the level of artwork these custom action figures represent. It is no wonder I consider Stronox one of the best customizers I have ever featured!

One additional note, if you like these figures as much I as I he has em on the bay and here are your links for:

Darth Bane

Darth Zannah

I could easily see any one of these customs being centerpieces for any type of Star Wars Collection. Lets face it folks these are articulated works of art!

---
EE Astro Set is now in stock to ship immediately!
-- Posted by Tamer on Saturday, October 22 2016
"Star Wars Astromech Droids 3 3/4-Inch Figures - EE Exclusive:
Entertainment Earth Exclusive!

Among our most beloved exclusive action figure sets were two classic packages of droids, so on the 10th anniversary of their release we conspired with Hasbro to bring you even more robot action!

Six awesome robots from Star Wars, Return of the Jedi, and The Clone Wars!

These figures come packaged in a huge R2-D2 shaped box - it stands over 16-inches tall!

Both Jabba's bartender and R2-C2 include a drink dispenser, drink tray harness, and seven glasses for your alien figures!

All six robots boast fantastic rolling wheels!

Entertainment Earth Exclusive! These figures will make your diodes tingle! The droids you are looking for are here. Celebrating the entire Star Wars saga and the 10th anniversary of our super-popular, sold-out, 2006 exclusive astromech droid sets, this amazing new Star Wars action figure gift set will knock your socks off! The sextet of astromech droids comes to you in a specially designed R2-D2-shaped box featuring these six 3 3/4 -inch scale action figures. Each droid sports multiple points of articulation, similar to the collector-favorite figures of The Vintage Collection. Dating back as early as the 1977 version of the original Star Wars movie, and all the way to the recent The Clone Wars animated series, this set has robots with personality you won't want to live without. Each figure includes rolling wheels on their feet, plus jointed domes, ankles, shoulders, and maybe even a few other surprises."

The set packaging can even be opened up without destroying it!

---
Stan gives us a super articulated Beru!
-- Posted by Tamer on Saturday, October 22 2016
"Lastest edition is SA Aunt Beru fully articulated with soft good skirt!"

She looks perfect to me!

---
Rodger beings the Retransformatioin!
-- Posted by Tamer on Saturday, October 22 2016
"After working on Vehicles for the past 3 years. The New Sandcrawler Workshop will be reborn. My Pickup has got to the point I can afford the space to continue working on the Ultimate Imperial Playset. First comes the Mess Cleaning and rearranging. This will take some time :D Been Here Done this. ;)"

I definitely got a smile on my face when I read this!

---
JDeck shares new Bandai News...
-- Posted by Tamer on Saturday, October 22 2016
"Check it out! I a small unknown scale ANH Millennium Falcon. Website says its 99mm long, so thats slightly bigger than the 1/144 X-Wing. If the Millennium Falcon is 34.5m then 99mm is 1/349.49, practically 1/350. Release date late December.

Also this month is 1/144 or so Y-wing.

Btw the 1/6 Stormtrooper will cost 7,000 JPY, or a little less than 70 bucks."

I always appreciate JDeck keeping me aware of the Bandai Stuff!

---
Ron Hembling starts a Galen Marek...
-- Posted by Tamer on Saturday, October 22 2016
"Hi All,

I client asked me if I could make him a Galen Marek figure a while back but I haven't been able to find a head that looked ok until I went thru an old bits box I had in the garage. The head is from and old Call of duty 6" figure that came out a few years ago.

The figure is 90% complete and just needs painting and then the base to be done. The figure is fully articulated and I used pieces of cloth to wrap around the boots, hands and arms. The belts are pieces of pleather and the back and front karmas? are pieces of leather, I used greenstuff to make tears in the shirt.

The shoulder piece is from Hasbro's BS Vader as was cut to size so it would fit the shoulder correctly. The base so far is made using Bandai bases and the troopers will be cut to fit the base and they are from Hasbro BS 6".

Ron"

Wow, what a great figure. I am sure his client is gonna be super happy with this one!

---
Jaeger 45 is back with new work...
-- Posted by Tamer on Saturday, October 22 2016
"More top deck crew for the Khetanna: Klaatu and the Floppy Hat Guy (otherwise known as Unidentified Human Guard).

These guys have to be two of the smartest guys on the sail barge. They take one look at Luke massacring the rest of the crew, and say screw this, we're outta here! Both figures rely on ground broken by Jabbaspalacespy."

I so agree! Make sure you click through to see the full recipes for these two.

---
Brandon Flores sends us new images!
-- Posted by Tamer on Saturday, October 22 2016
Of his Vader Command Chamber. Looks like the Emperor and some Royal Guards are getting in on the diorama now. So cool to see this and the lights!

---
Want to buy custom vintage style Kenner Action Figures?
-- Posted by Tamer on Saturday, October 22 2016
This was shared on our Facebook Page yesterday and I thought it sure did seem reminiscent of when I was a kid looking at the pegs.

Right now they have a variety of Sandtrooper versions for sale, but looking forward to seeing more of their vintage offerings.

---
Legion078 shows you why you should paint...
-- Posted by Tamer on Friday, October 21 2016
"The NR-N99 Persuader-class droid enforcer, colloquially known as the Corporate Alliance tank droid, CAD and the snail tank, was a tank droid constructed by the Corporate Alliance at first to silence its opposers and later to combat the Grand Army of the Republic.

"These are automated agents of evil!"
- Plo Koon rallying clone troopers on Geonosis

Source: Wookiepedia.com
Follow the link below to find out more about this vehicle:
http://starwars.wikia.com/wiki/NR-N99_Persuader-class_droid_enforcer/Legends

Hasbro released the Corporate Alliance Tank in their Clone Wars Line in 2009. I had been hoping for a debut of this vehicle since I watched Episode III for the first time.
This version of the NR-N99 appeared in the Clone Wars Series in this color scheme, but I expected Hasbro to release a repaint of this tank in the following years.
I wondered why Hasbro didn't release this vehicle in their ROTS line right away...it would've been amazing along with the Wookie Flyer. However we never saw the Persuader as it appears on screen in Revenge of the Sith.
A simple repaint has always been a good way to pay off new molds and production costs (best example are Jedi Starfighters). Instead of re-releasing this awesome mold Hasbro even down-scaled the Class II vehicle line, which are more in scale 1/24 than in 1/18.

Since this let my hopes of a re-release/repaint fade away I decided to repaint the TCW version myself. I don't know if anybody did this before and I didn't find many pictures of a similar project online.
This plan has been in my mind since 2009 and this year I finally realized it:"

I love what he is doing with this!

---
JDeck finishes his C3PO Project...
-- Posted by Tamer on Friday, October 21 2016
"Im calling the C-3PO part of the project finished. It looks better in person. It's difficult to photograph something like this. looks totally different in some lights than in others. But I like it. I found out I won't have my R2-D2 kit until late next week. Bummo. But I have a few things to do in the meantime. I'm using r5 as a stand in for now."

I think it looks pretty good.

---