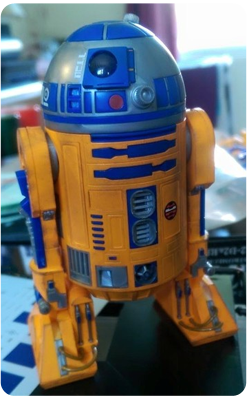 Wraithnine is back with new Astros...
-- Posted by Tamer on Friday, May 29 2015
I think these are of the six inch variety with that new Bandai Kit he has been making just gorgeous new astro-mechs out of. His two new ones fit the bill as some of Jay's always exemplary work.

---
Ajunta Pall is back with a REBELS Update...
-- Posted by Tamer on Friday, May 29 2015
"HERA SYNDULLA (realistic version): Btw if anyone's got any ideas as to what I could use to make her pilot leash strap thingys please by all means leave comments and suggestions. I've tried everything from painting them on her legs to manipulating twist ties, and nothing seems to work for me as good as the real thing. Thanks for looking."

I love the look of the realistic style applied to these figures. Hope on in and help him out with the leash strap thingys!

---

Big Bad Toy Store lists great new Star Wars Items!
-- Posted by Tamer on Thursday, May 28 2015
STAR WARS OFFICIAL STARSHIPS & VEHICLES COLLECTION
The Star Wars: The Official Starships and Vehicles Collection Magazine brings fans superbly detailed, painted metal models of the most amazing starships and land vehicles from George Lucas' mythic Star Wars films. Each comes with a copiously illustrated magazine that relates the history of the vehicle, its pilots or crew, and full technical specifications. $23.99 each
http://www.bigbadtoystore.com/bbts/search.aspx?search=official%20starships%20&page=1

STAR WARS METAL FIGURE COLLECTION
The first four figures in the Star Wars Metal Figure Collection have arrived! These metal and plastic figures are just over 3 inches tall with movable heads and arms (R2-D2 only has moveable head). Darth Vader comes with his lightsaber, Stormtrooper has a blaster, and C-3PO has one silver leg. $11.99 each
http://www.bigbadtoystore.com/bbts/search.aspx?search=STAR%20WARS%20METAL%20FIGURE

STAR WARS BLACK 6" LUKE & WAMPA
Recreate those tense moments in the snow cave with Luke unarmed and trapped in the ice and the Wampa preparing to eat him for dinner with this all new deluxe box set in the Star Wars Black Series of 6 inch figures. Luke comes with his blaster and lightsaber and the Wampa features a bloody face. $44.99
Also available in a Case of 3 with Han & Tauntaun for $119.99
http://www.bigbadtoystore.com/bbts/search.aspx?search=star%20wars%20black%20deluxe

STAR WARS REVOLTECH X-WING
Introducing the first vehicle into the Star Wars Revoltech line this X-Wing measures about 7" long and comes with a mini Luke Skywalker and R2-D2. This item features expanding wings and an opening cockpit. $59.99
http://www.bigbadtoystore.com/bbts/product.aspx?product=KAI10627&mode=retail

STAR WARS MINI FIGURES
Star Wars Mania Black and White boxes of 7 contain cute little stylized versions of Darth Vader with 6 Stormtroopers or R2-D2 and C-3PO with 5 Stormtroopers for $25.99 per box. We also have the Star Wars Best Show boxes of 4 that appear to contain army figure style sets of Darth Vader with Stormtroopers or R2-D2 and C-3PO with Stormtroopers for $9.99 per box.
http://www.bigbadtoystore.com/bbts/search.aspx?search=star%20wars%20plex

---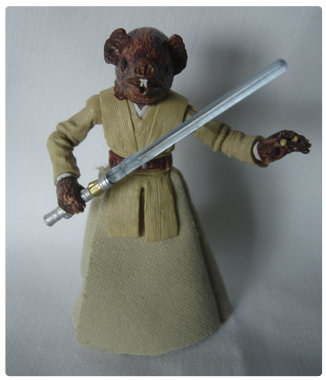 Mandalore25 is back with an update...
-- Posted by Tamer on Thursday, May 28 2015
"I've been wanting to make a Cadra-Fan Jedi for quite some time, and the epasode I Anakin in jedi robes is the perfect height for one. Specifically I decided to make the Chadra-Fan Tekli from The New Jedi Order. Really loved those books, with a galactic scale war that wasn't against the sith, and Yuuzhan Vong are awesome. Back to the figure, she's really more of a kit bash, for it's mostly a Kabe head on an Anakin body, but I wanted to keep the hands too, so I cut the hands off both figures, and glued Kabe's to the pins of Anakin's so they'd still swivel. Loved the way it turned out, I'm very happy with it. If anybody's interested, here's a link.

---
StarFall is back!
-- Posted by Tamer on Thursday, May 28 2015
"It has been a busy few months since my last Starfall update. After a long struggle of starting and stopping this latest character I finally got to a place where I was satisfied with the direction of his design and was able to complete him. It was really frustrating to keep not being able to "get him right" he just felt so off for so long. Perhaps that is befitting of his old and cranky personality?

When I debuted Miithraa, my Drethari Cathound character, I mentioned in her back story the master assassin that trained her. Wistrau Vitaali is one of the last living grand masters of the Kresh'ta'Nor assassin arts and one of the most skilled thieves in the Star Cluster. As a prisoner on the slave world of Denizen Prime he helped hone Miithraa into a most deadly assassin and skilled warrior. Despite his wrinkled exterior and cantankerous disposition, Wistrau is a skilled and caring teacher, only imparting his vast knowledge to those who truly deserve it. A former commander in the last of the 7 Wars he is also a decorated war hero."

Looks great to me!

---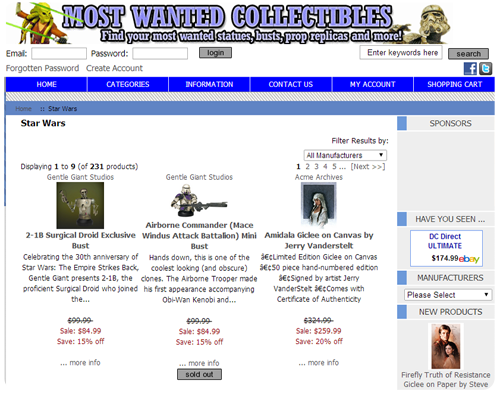 Have you seen Most Wanted Collectible's Star Wars Section?
-- Posted by Tamer on Wednesday, May 27 2015
If not you are missing out on over 230 products, many of which are at deep discounts that you will not be able to find anywhere else. From Gentle Giant to Acme Archives, etc. you can count on Most Wanted Collectibles to list the high end items you demand for your collection.

Rest assured your order will be handled promptly and professionally and show up to your door in awesome shape. Personally I have never had an issue with any order. I have even been contacted by MWC's Customer Service just to make sure some items I ordered showed up ok. I liked that a good bit!

---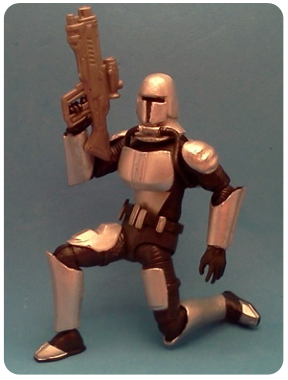 I-am-Boba-Fett gives us a new Mando...
-- Posted by Tamer on Wednesday, May 27 2015
"Here is another figure that I made awhile back. This is custom Canderous Ordo, who became MANDALORE THE PRESERVER when he found Mandalore's mask. This figure is based on his appearance in the Knights of the Republic game and features an all new helmet and head both sculpted, resin cast, and painted by me. The helmet hoses and his rifle attach to his back armor via very small strong magnets."

That magnet work is really awesome. It really looks snug too. Of course the sculpt and paint work is fantastic too.

---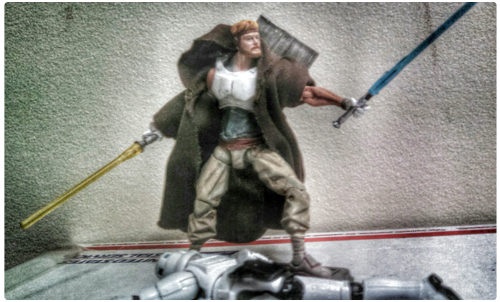 JDeck shows us an Order 66 Survivor...
-- Posted by Tamer on Wednesday, May 27 2015
" So I pretty much finished my Order 66 survivor, Brutis Valli. I'll probably start working soon on a dio for this guy, I think he's pretty cool.

Brutis Valli was a student of the brilliant Jedi Master Wuden. During The Clone Wars Valli seved as Wuden's captain and right hand man.until Order 66 was carried out by Wuden's clone commanders. Valli watched helplessly as his master was shot in the back by his own men. He defended and his master's lifeless body, so it wouldn't be paraded around as a war trophy, and was able to escape. As a fugitive of the Empire he spends his life trying to survive and do as much damage to the Empire as possible. He has cutting down Stormtroopers down to an art form, due to his expert lightsaber skills involving multiple targets. Its rumored he can single handedly take out an entire platoon one squad at a time."

I just love a good back story too.

---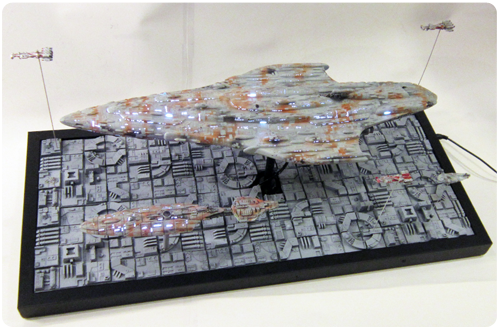 Nicholas Sagan is back with a new model...
-- Posted by Tamer on Wednesday, May 27 2015
"1/2256 MC-80 diorama: Just finished this guy COMPLETE!"

Talk about one awesome Mon-Calamari-MC-80-Cruiser. It even lights up!


---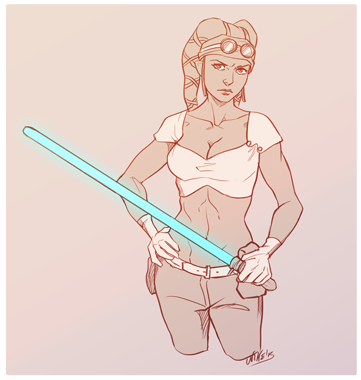 The Irish Rogue is back with new fan fiction!
-- Posted by Tamer on Wednesday, May 27 2015
"Star Wars --- The Clone Wars

Oasis Calm: Volume 1

"Uncertainty is a sign of humility, and humility is just the ability or willingness to learn."

(Opening Crawl)

"The first months of the Clone War rages on! Grand armies of the Republic stride forward bringing order behind. Battlefields grow more diverse while growing heavy with casualties. Each side devises increasingly lethal plots to stave the enemies war efforts in the hope of sparing themselves financial burden. The burden of commissioning a new army.

A' Sharad Hett is charged with investigating such Separatist ploys. Located in the system of Aargonar, Separatists seek a new way to eliminate political opposition. The system's allegiance and resources weigh in the balance.

Jedi Knight Aayla Secura's 327th Star Corp prepares their ships for the coming task. The optimistic young Jedi holds diplomacy in high regard having recently secured a new treaty with the Lurmen of Maridun. The Jedi temple remains an emblem of tranquility on Coruscant; the hopes of the people glowing as the new horizon dawns...."

Folks that is just the opening scene!

---
We launch our latest Custom Challenge!
-- Posted by Tamer on Tuesday, May 26 2015
This time out you have your choice between two themes: create yourself as a Star Wars Custom Figure or scratch build a Star Wars Vehicle. The particulars you can find here and I simply cannot wait to see what folks choose and see their work in progress and final reveal images. Special thanks goes to TS Hobbies who has been kind enough to donate the prizes for this one. Get to building ISYers!

---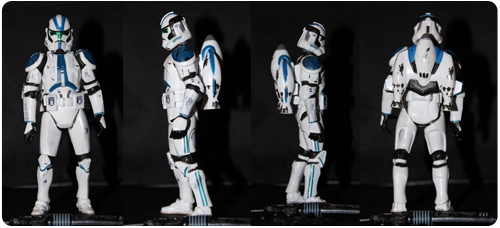 Clone Troopr is back...
-- Posted by Tamer on Tuesday, May 26 2015
"Haven't posted a custom in a while, but here we go! This is the 501st Jet Trooper from the Star Wars Battlefront II videogame. When I first played the game, I knew I wanted a figure of this trooper. When I was finally able to get my hands on the Hasbro Battlefront II trooper pack, I was disappointed with the poor articulation of the figure, as well as how the figure couldn't even hold the EMP blaster properly. After so long, I finally decided it was time I upgraded the figure."

Make sure you find out how he created a great looking Jet Trooper. I must say I love seeing it with its flame on!

---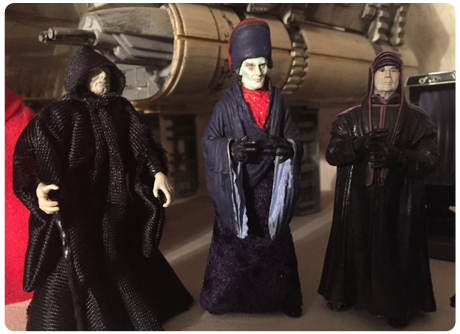 Stan is back with more customs...
-- Posted by Tamer on Tuesday, May 26 2015
"Just finished off Slim Aloo and the Emperor; since it going to a while before Hasbro get to this( or is it), really want to start filling the gaps in my collection. Both are SA and Slim features a removable helmet and soft good robe. Hope everyone like this."

Looks great to me. I wonder how long it will take the big H to get to these themselves?

---
Jodo shares his latest chapter...
-- Posted by Tamer on Tuesday, May 26 2015
"Well, I don't want to give anything away, but things will get "interesting" before they get happy. Thanks for reading!"

Well this one sure has an ominous feel to it. Make sure you let him know what you think.

---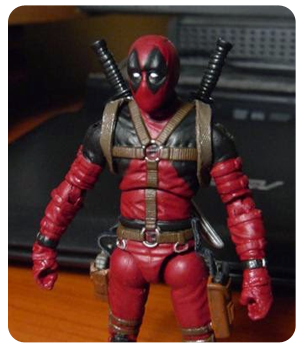 Raimondo is back with a Marvel Update...
-- Posted by Tamer on Tuesday, May 26 2015
He is back with a new custom Deadpool he made with some left over JOE Parts. I must say you can never get enough Deadpools. I am still wondering over the fact that we have not yet received a movie with this popular character!

---