Most Wanted Collectibles lists rare high end collectibles...
-- Posted by Tamer on Wednesday, April 1 2015
Take the Clone Wars Commander Bly Mini-Bust you see pictured above, MWC still have a ton a awesome Gentle Giant Collectibles that you can't find in stock anywhere today. This particular bust was listed in 2011 and commands a hefty price on today's aftermarket listings, but you can still order it for a regular price from Most Wanted Collectibles.

You may even want to take a look at their entire in-stock products and then compare prices to places like eBay and elsewhere. You can definitely fill in some holes you perhaps never thought you would have the chance too and save some deniro. I think thats called a win win! ;)

---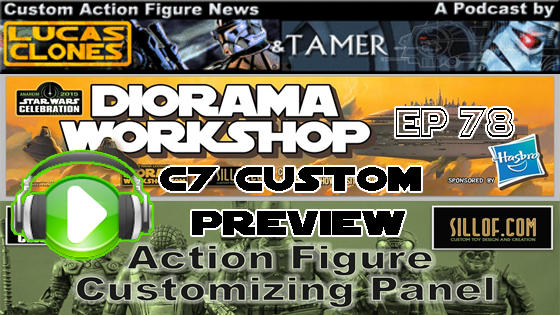 Get ready for a new episode of Custom Action Figure news and we aren't foolin!
-- Posted by Tamer on Wednesday, April 1 2015
Its time to talk about what customizing fun you can get into at Celebration Anaheim! To do that Frank Diorio from Diorama Workshop.com will stop by the podcast to talk about his C7 Diorama Workshop and Jamie Follis of Sillof.com will stop by to talk about the customizing panels being held during Celebration!

All this should hopefully start around 6:15PM Eastern tonight! Look at the top of this page as we get closer to air time and then push the play button when you see it go live.

---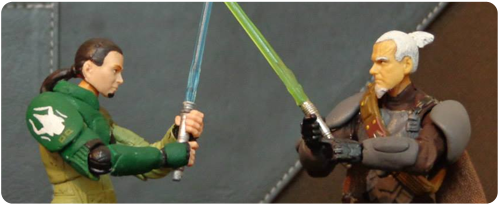 Mandalore 1992 is back with new Rebels...
-- Posted by Tamer on Wednesday, April 1 2015
"I have three new customs that want to show you I hope you like." I am really liking his version of Kanan and Rahm Kota and a Rebel Clone Pilot. You will just have to click on through to see them all and make sure you see the TIE kills on the side of his ship!

---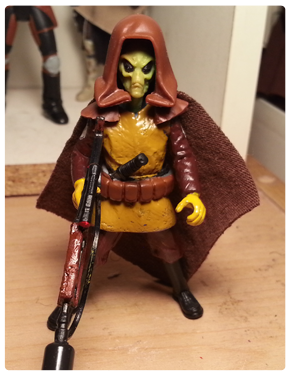 Ajunta Pall continues to showcase a ton of great customs...
-- Posted by Tamer on Wednesday, April 1 2015
I like his updates as you get a huge amount of new custom figures when he posts. His latest batch is just one great combination of parts from a bunch of different lines. This one is Shlohmo (bounty hunter tracker assassin) and I am interested in reading his back story he has promised to post later.

---
Art de Whill is back with new artwork...
-- Posted by Tamer on Wednesday, April 1 2015
"So here is my latest "translation" of a custom figure by Iron Panda into one of my artworks! This time I added even more details to the figure, more than one would do when thinking of a comic book style which my initial idea was when starting this type of work - at least a cross between illustration and comic style... anyway, that is just artists blabla, lets focus on the girl." I think she looks fabulous Stefan!

---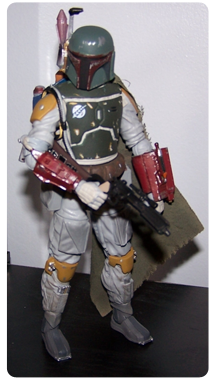 TS Hobbies is back with a repaint...
-- Posted by Tamer on Wednesday, April 1 2015
"Heres my latest piece..not exactly a creative one..but one of those must do kinda repaints...the ROTJ version of Boba Fett...added the pouches to his belt, and re-positioned the larger two. Also had to add the red rope belt ,since that was basically destroyed while cutting the belt apart. Also reworked the rifle, though its not exactly accurate. I'll probably redo that later. I also removed some of the details on his left wrist and made the flame thrower? box to it. And of course repainted most of him." I would buy him!

---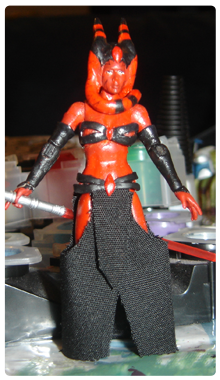 Mandalore25 is back with a Sith...
-- Posted by Tamer on Wednesday, April 1 2015
"Glad to be showing something, have been working on commissions, and have been getting over scheduled at work lately. This is another figure for the same customer that wanted Salve Elsa, it's some female Togruta sith created by some artist I'm unaware of, but I hope if they were to see it, they'd think I captured her likeness for my customer." What a cool character, I would like to see Hasbro make something like this. I don't think we have enough Sith in our lives!

---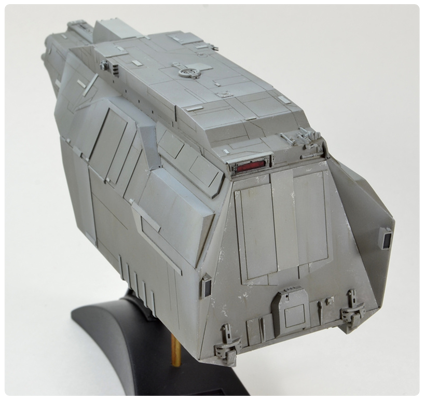 Unreality is back with an Action Fleet AT-AT Barge!
-- Posted by Tamer on Tuesday, March 31 2015
"Well, this is my latest build. I just finished it yesterday...or rather, I finished taking photos of it. It's an original design inspired by AT-AT barges that I've seen in pics and games. I call it the Thane-class Barge as a nod to the game Skyrim." Folks this just turned out fantastic. The detail is off the charts. You will see him even landing an AT-AT in his image update.

---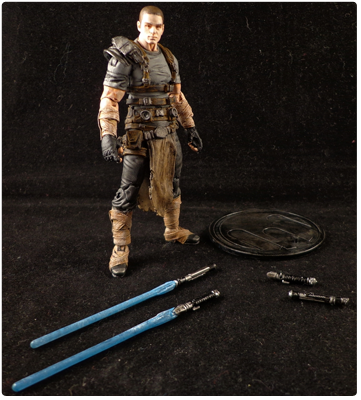 Stronox is back with a new Starkiller...
-- Posted by Tamer on Tuesday, March 31 2015
"My most recent version of Starkiller, done with GI Joe styled articulation and removable saber hilts!" Folks, this is probably the toughest looking version of this character I have ever seen! If you would like to own it, click here and get cracking!

---
Custom Jedi is back with all kinds of updates...
-- Posted by Tamer on Tuesday, March 31 2015
He is back with all kinds of news from a Facebook Anniversary, to custom figures finished and his works in progress, to even some Celebration 7 news. I think it is definitely worth a click to see the latest.

---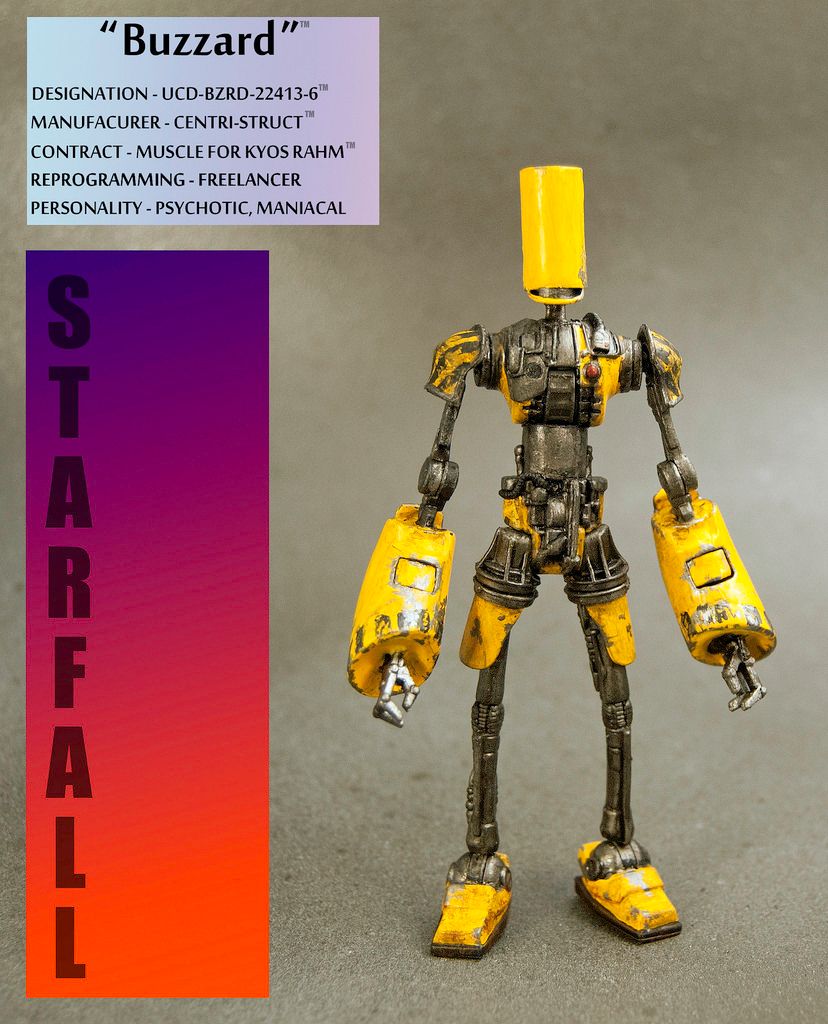 StarFall is back!
-- Posted by Tamer on Tuesday, March 31 2015
"It has been a while since my last update, but I have a batch of new Starfall characters in various stages of completion. I have a new setup for my workspace which has been an amazing boon to my process, but as most of you know, it's just hard to find the time to get in the work. So here is my latest addition to the Altarus Starcluster: Buzzard." You can read through and read a great back story and see a very detailed set of images.

---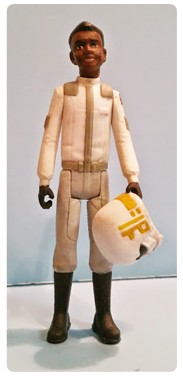 Darth Daddy is back with a REBELS Update...
-- Posted by Tamer on Tuesday, March 31 2015
"This was a quick figure I made, by replacing the Ezra Bridger head from the 2 pack where Ezra was in disguise as Dev Morgan the Imperial cadet. I just created an original headsculpt to make it into a Zare Leonis. Here at home we felt that the Zare Leonis character deserved an action figure so we did what we had to do to make it so. I used a combination of Green Stuff and Aves Fixit to do the sculpt." Looks good to me. I sure wish there was more movement in these figures, but DD is sure on the right track.

---
John Caliber starts a new series: Aversion Corridor!
-- Posted by Tamer on Monday, March 30 2015
It is great to see Star Wars Toyscapes: Aversion Corridor (Episode One) and see him incorporating new effects into his graphics. From creating epic dioramas and some image wizardry along with a great story this is just a nice way to get your work week started!

---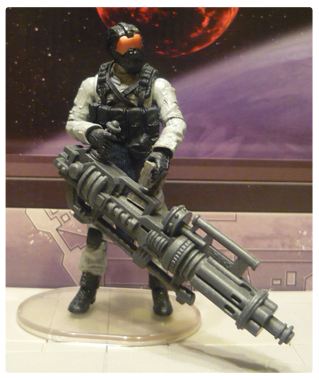 Jedi Minstrel adds even more to his new line...
-- Posted by Tamer on Monday, March 30 2015
"Little is known about Spc. Biinaes Vic other than he lost both his parents to an industrial accident in Sith space when he was a child. An uncle, the navigator on a freighter, was able to smuggle him and his younger sister into Republic space. He placed both children with a friend where they were able to grow up in a less fanatic environment. Biinaes wanted to help people like his parents and do what he can to defend and expand the Republic." As you can see his interesting back stories complete his great customs.

---
OC47150 is back with three new customs...
-- Posted by Tamer on Monday, March 30 2015
"A couple of customs to end the weekend. A younger version of Qui-Gon. Straight repaint: darkened the hair and gave his robes a different color. A Naboo pilot with the jacket. I used the POTF2 Endor Han cloak and painted it orange. I created this one for a comic show last year. Took one of the POTF2 Obi-Wan's and gave him the old '70s colors." It is great to see folks still getting use out of POTF2 Figures!

---