Poke Wars sends in an update...
-- Posted by Tamer on Thursday, April 24 2014
"Hey guys I've been working on a couple of customs lately like Boba Fett's added Fibercored Whip." He has quite a few nice ones including a Wookie cyborg and a Togruta Mechanic Bounty Hunter Merc. Click on through to see it all.

---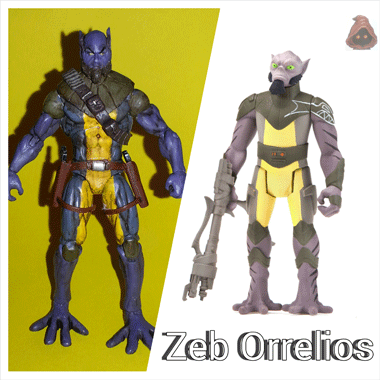 The Mad Jawa creates Zeb!
-- Posted by Tamer on Thursday, April 24 2014
"This is my last custom for the Rebels team line up. Enjoy, this is Zeb Orrelios." Well I can sure tell you which version I like better. Realistic style is so much cooler to me. Cmon Hasbro, look how great these characters look done up in a realistic style!

---
Custom Creator calls his diorama finished!
-- Posted by Tamer on Thursday, April 24 2014
"Mission Accomplished. While I would never call this diorama "finished", I am putting it aside to start on another new adventure. It's been almost a full year since I started this and glad to have the workbench clear for the next project!" We have sure enjoyed watching this all come together this past year.

---
Smeagol92055 is buidling a White Skull...
-- Posted by Tamer on Thursday, April 24 2014
"He's called The White Skull, a memeber of the Ruthless Organization Against Civilian Heroes (ROACH for short). I created him back in 2009 as a gag and drew four comics featuring him, which is honestly more attention than I've ever paid to any of my other comic-book creations. Sadly, his day is passed, but I've been wanting to make a custom figure of him for years." He is really off to a great start and his mock up is just fantastic!

---
Darth Optimus is back with a new custom...
-- Posted by Tamer on Thursday, April 24 2014
""Muscle & Bone" Xenomorph. This is a vintage Kenner "Scorpion" alien, which is based on their appearance in the film "Aliens". I am a huge fan of the old Kenner sculpts. They are really detailed and sized just right for 1:18th Colonial Marines to fight. The idea from this stemmed from a set of Warhammer 40K minis that I came across online. It's meant to represent a "skinned" Xeno. And yes, I know enough about Xeno physiology to know that this is not what they would look like inside out, but it looks cool...so there ya go." I think it looks pretty cool too.


---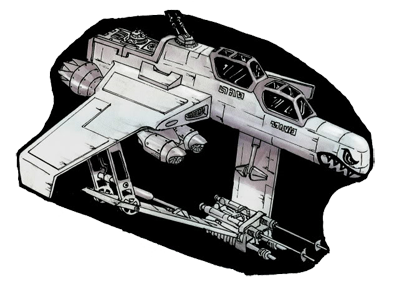 We see new art by Siths Herald...
-- Posted by Tamer on Thursday, April 24 2014
"Here's a few more of my favorites. These are two version os what I called the O-Wing fighter. The first is early version created by the Aquavian species. The second is an updated modern version by the same species." I really like the look of these myself!

---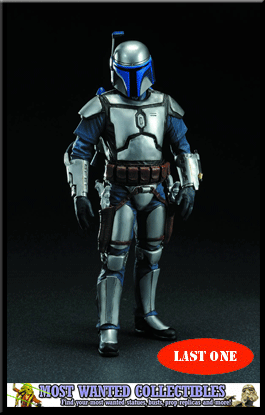 A great price for this on sale at Most Wanted Collectibles!
-- Posted by Tamer on Wednesday, April 23 2014
I for one highly recommend the Art FX 1/10 Scale Line from Kotobukiya. I have the TESB Boba, Darth Vader, and Stormtrooper Two-Pack and really like them. I was looking around at MWC today and saw that they had the Art FX Jango Fett Statue in this scale on sale for only $32.99!

As you can see though they are saying this is the last one so why not let this great deal go to you? Matter of fact you may want to check out all of their specials as there are great savings to be had. Rest assured you order will come timely and packed well as I am speaking from personal experience.

---
Time is just about up to get your Custom Space Trees!
-- Posted by Tamer on Wednesday, April 23 2014
"We have 8 hours left so people still have a chance to get orders in! Final day to get your order into indiegogo by is today! All sets will now receive limited edition numbering (out of how many sold) to show you were the first to get one and considered what we like to call Limited "FIRST ORBIT" Edition for anyone who orders during our indiegogo campaign! Plus, We have 2 new stretch goals:

$11,000: If we can reach $11,000 everyone will get a not yet released Little Guy Bone Chest Armor Piece included with their set! So lets keep spreading the word and get those orders in! And try to reach that bonus!

$18,000: If we can reach $18,000 everyone will get a not yet released Forest Bait on a Stick included with their set! Used to trick humans and walking carpets into getting captured. So lets keep spreading the word and get those orders in. Lets try to reach the best goal of all!

Hopefully we can reach these goals before our campaign ends so we can get everyone who orders all these cool extra items. Also we have recently started printing and products are coming off our printers at a good rate."

---
I-am-Boba-Fett gets his REBELS on!
-- Posted by Tamer on Wednesday, April 23 2014
He has created a great looking Droid Mechanic and Custom Astro-Mech for his contest entry. Click here to see the larger image. Don't forget there is still time to get your REBELS on, but time is running out! Click this link to see the full contest details.

---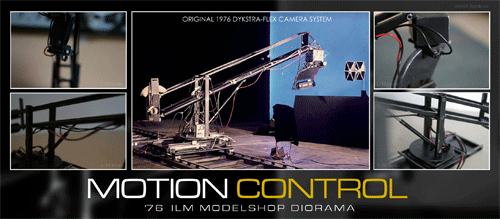 MAXX Replics is back with a new dio!
-- Posted by Tamer on Wednesday, April 23 2014
"As a huge Star Wars fan and of that what they have done 1976 in the ILM modelshop, I'm working on a "never made before" Star Wars 1/18 diorama: THE '76 ILM MODEL SHOP Diorama. The first thing what I've done, was a 1/18 model of the Dykstraflex motion control camera." Uh, wow! I seem to say that a lot when dealing with MR!

---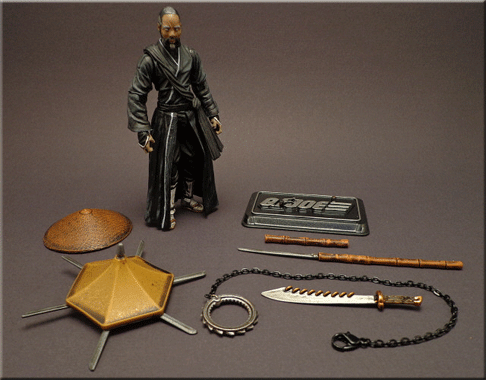 Its a new update from Stronox!
-- Posted by Tamer on Wednesday, April 23 2014
"Hi guys! I found a Blind Master at retail and was less than impressed overall with him as is so I did him up my style..." I definitely like his take better!

---
Great new preorders are up at Dorkside Toys!
-- Posted by Tamer on Sunday, April 20 2014
Brand new Black Series Six Inch Wave 4 were announced late last week and Hasbro are re-packing the much sought after Stormtrooper & Boba Fett instead. These figures have been insanely popular with incredibly high prices outside of our store. Do not miss out this time. We also have singles of Boba & the Stormtrooper if you're quick. Don't want those figures? You can also pick up just the clone and Anakin alone. Wave 3 Black Series 3.75 inch are still up for pre-order too at excellent prices and we also have New Star Wars Funko Fabrikations, vehicles, Jumbo Kenner and Hasbro figures starting from only $3.99. Don't forget to see all the new weekly deals in the Dorkside Toys Weekly Newsletter!

---
Its time for Episode 11 of the Realm Recap...
-- Posted by Tamer on Sunday, April 20 2014
This one is entitled "They Might Be Gentle Giant" and it is always great to end my collection week listening to Jayson from Yakface.com and FlyGuy from FlyGuy.net keep me updated on the best in Star Wars News and Customizing they glean from the world wide web. It is really about the only show, tv or otherwise, that I make sure I listen too each week. They definitely give us the take from our perspective!

---
WonderCon gets an Exclusive REBELS Clip...
-- Posted by Tamer on Sunday, April 20 2014
We were just talking about Hera and here is a great clip of some of the upcoming action we will see this Fall. You gotta love Chopper already! "This special Star Wars Rebels preview clip, which premiered at WonderCon 2014, features an introduction from voice actress Vanessa Marshall and an exciting sequence from the upcoming animated series." Don't forget to subscribe to the Official Star Wars Channel on YouTube!

---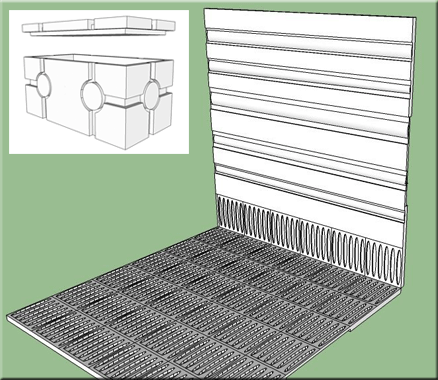 Doc Outlands updates us on his Starship Interiors...
-- Posted by Tamer on Sunday, April 20 2014
"Fresh from my artist! This is our first floor and wall panels that are even CLOSE to functional. We backed up from what was devolving into a dead-end with the other designs and my artist came at the project fresh from scratch. This is 6"x6"x6" and should give a really good figure display! My artist also took the time to work on my Iconic Box and came up with a couple of designs. Yes, they are HOLLOW with REMOVABLE LIDS!" It all looks great to me!

---