Great new preorders are up at Dorkside Toys!
-- Posted by Tamer on Sunday, April 20 2014
Brand new Black Series Six Inch Wave 4 were announced late last week and Hasbro are re-packing the much sought after Stormtrooper & Boba Fett instead. These figures have been insanely popular with incredibly high prices outside of our store. Do not miss out this time. We also have singles of Boba & the Stormtrooper if you're quick. Don't want those figures? You can also pick up just the clone and Anakin alone. Wave 3 Black Series 3.75 inch are still up for pre-order too at excellent prices and we also have New Star Wars Funko Fabrikations, vehicles, Jumbo Kenner and Hasbro figures starting from only $3.99. Don't forget to see all the new weekly deals in the Dorkside Toys Weekly Newsletter!

---
Its time for Episode 11 of the Realm Recap...
-- Posted by Tamer on Sunday, April 20 2014
This one is entitled "They Might Be Gentle Giant" and it is always great to end my collection week listening to Jayson from Yakface.com and FlyGuy from FlyGuy.net keep me updated on the best in Star Wars News and Customizing they glean from the world wide web. It is really about the only show, tv or otherwise, that I make sure I listen too each week. They definitely give us the take from our perspective!

---
WonderCon gets an Exclusive REBELS Clip...
-- Posted by Tamer on Sunday, April 20 2014
We were just talking about Hera and here is a great clip of some of the upcoming action we will see this Fall. You gotta love Chopper already! "This special Star Wars Rebels preview clip, which premiered at WonderCon 2014, features an introduction from voice actress Vanessa Marshall and an exciting sequence from the upcoming animated series." Don't forget to subscribe to the Official Star Wars Channel on YouTube!

---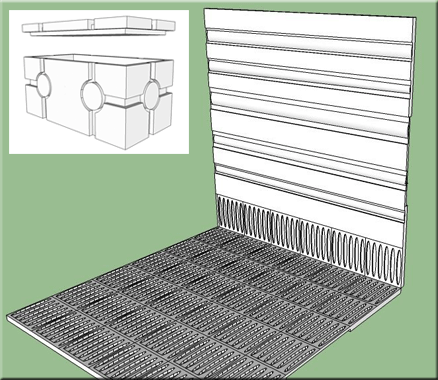 Doc Outlands updates us on his Starship Interiors...
-- Posted by Tamer on Sunday, April 20 2014
"Fresh from my artist! This is our first floor and wall panels that are even CLOSE to functional. We backed up from what was devolving into a dead-end with the other designs and my artist came at the project fresh from scratch. This is 6"x6"x6" and should give a really good figure display! My artist also took the time to work on my Iconic Box and came up with a couple of designs. Yes, they are HOLLOW with REMOVABLE LIDS!" It all looks great to me!

---
The Mad Jawa is still getting his REBELS on!
-- Posted by Tamer on Sunday, April 20 2014
Take a peek at his version of Hera, and upcoming hero on the new Disney XD REBELS Series set to premier this Fall. I definitely like his version and would love to see Hasbro create some realistic figures like these some day. Hey, you never know, it could happen! :)

Also, don't forget to take a look at our current REBELS Customs Contest we have going on with Yakface!

---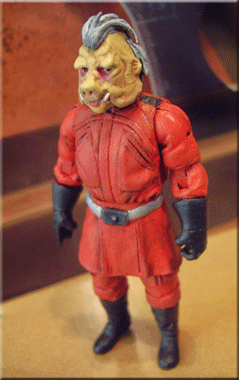 Darth Daddy creates Yoxgit...
-- Posted by Tamer on Sunday, April 20 2014
"Here is another addition to Jabba's Palace that Dad did this week." Looks good to me. Wouldn't it be cool to see Hasbro create a version of this one!

---
Wraithnine updates his SSC Custom Commander Ponds...
-- Posted by Tamer on Sunday, April 20 2014
"Just done some fixes to my Cmdr Ponds: fixed the ear where an airbubble stopped the ear from forming properly, Repainted the feet to make sure they match better, and the Comlink." All in all these little touches sure do add up to great effect on this SSC Custom. And be sure to check out the place where Jay gets all his parts on the bay via Kasey Kennington.

---
Commando Gregor finishes his Bo-Katan!
-- Posted by Tamer on Sunday, April 20 2014
"Well, aside from the problem I had with her shoulder emblems (spent hours on them, got them near perfect, then bent her arms at the shoulder and the joint shredded both of the emblems.....broke my heart), this is 99% the finished figure. Hope you like." Oh yes, CG I like this a lot!

---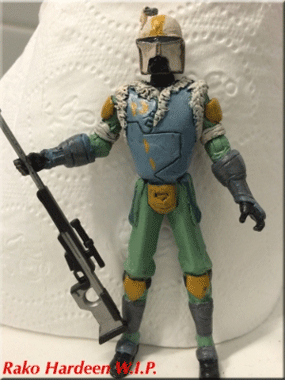 Hanzo the Razor is back with a new work in progress...
-- Posted by Tamer on Sunday, April 20 2014
"Here is a my Rako Hardeen WIP. I should really start finishing projects before moving on, but ideas pop in my head and I have to roll with them. This one is still in the early stages, just trying to decide what part to work on next." I think he is off to another great new custom action figure.

---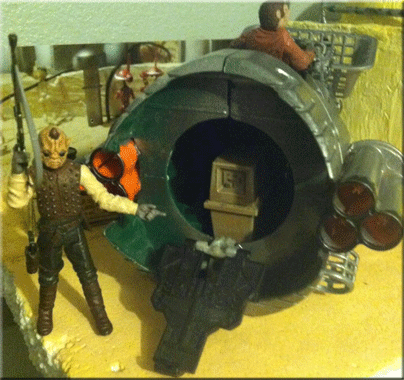 Poke Wars is back with new vehicles...
-- Posted by Tamer on Sunday, April 20 2014
he shows us that it doesn't have to be the most high end item to get tons of new playability. Click on through and see how an ordinary container can turn into a great Skiff! It is things like this that give me hope that no matter how lacking we are for some things, there is always gonna be a creative imaginative person like Poke Wars to add more to our overall custom verse.

---
Darth Crassus gives us more images of his Sideshow Mythos Obi-Wan...
-- Posted by Tamer on Sunday, April 20 2014
Of course we are talking about his creation of a three and three quarter version of this figure that compliments SSC's great statue. I was just commiserating with a friend about all of the prequel Obis and Anakins they are making. Perhaps turning them into something like this would make them more palatable. Make sure you hit that link to see Obi from the front view too!

---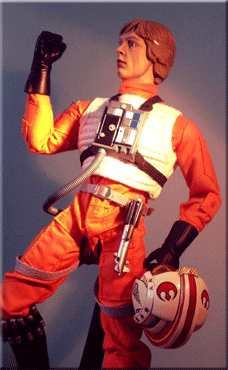 Wookieballs is back with a fantastic 1:6 Scale Han and Pilot Luke!
-- Posted by Tamer on Sunday, April 20 2014
He is calling this series Hashow as it is a series of 12 inch figures compromised of parts of many different sources to just great effect. He has used Sideshow, Hasbro, Dragon, Medicom, and Tomy with just the update on these two custom figures. I think it is an awesome idea and what a great way to get some nicer end cheaper 12 inch figures by putting them together with the various parts. It is bound to be more fun too!

---
Jetpack Blues shows us a great tutorial...
-- Posted by Tamer on Sunday, April 20 2014
In this time lapse video watch how he created the stunning six inch Darth Talon custom you can see images of here. Then, you can be off to create your own version. Ah, wouldn't it have been nice to get Darth Talon instead of the prequel Obi or Anakin!

---
Glorbes finishes his Six Inch Scale AT-ST!
-- Posted by Tamer on Sunday, April 20 2014
"Cardboard Black Series AT-ST: Hasbro would be nuts to make vehicles in the 6" scale...they would be massive and cost a fortune. But, much to my wife's delight, I've been toying with making custom vehicles...and this is the first attempt at creating something "accurate" to display the Black Series figures with. This thing was made from corrugated cardboard, masking tape, carpenter glue, and some wooden doweling...super cheap and super fast to make. Let me know what you think, and thanks for looking."

---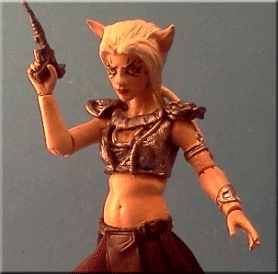 I-am-Boba-Fett is back a finished figure...
-- Posted by Tamer on Sunday, April 20 2014
"Here is the finished figure of the female Farghul MIKA that I was commisioned to make. She is a character from the Star Wars comics. Supposedly she is not a Jedi but at some point in the comic she fights using a lightsaber." I think it looks pretty daggone awesome myself!

---